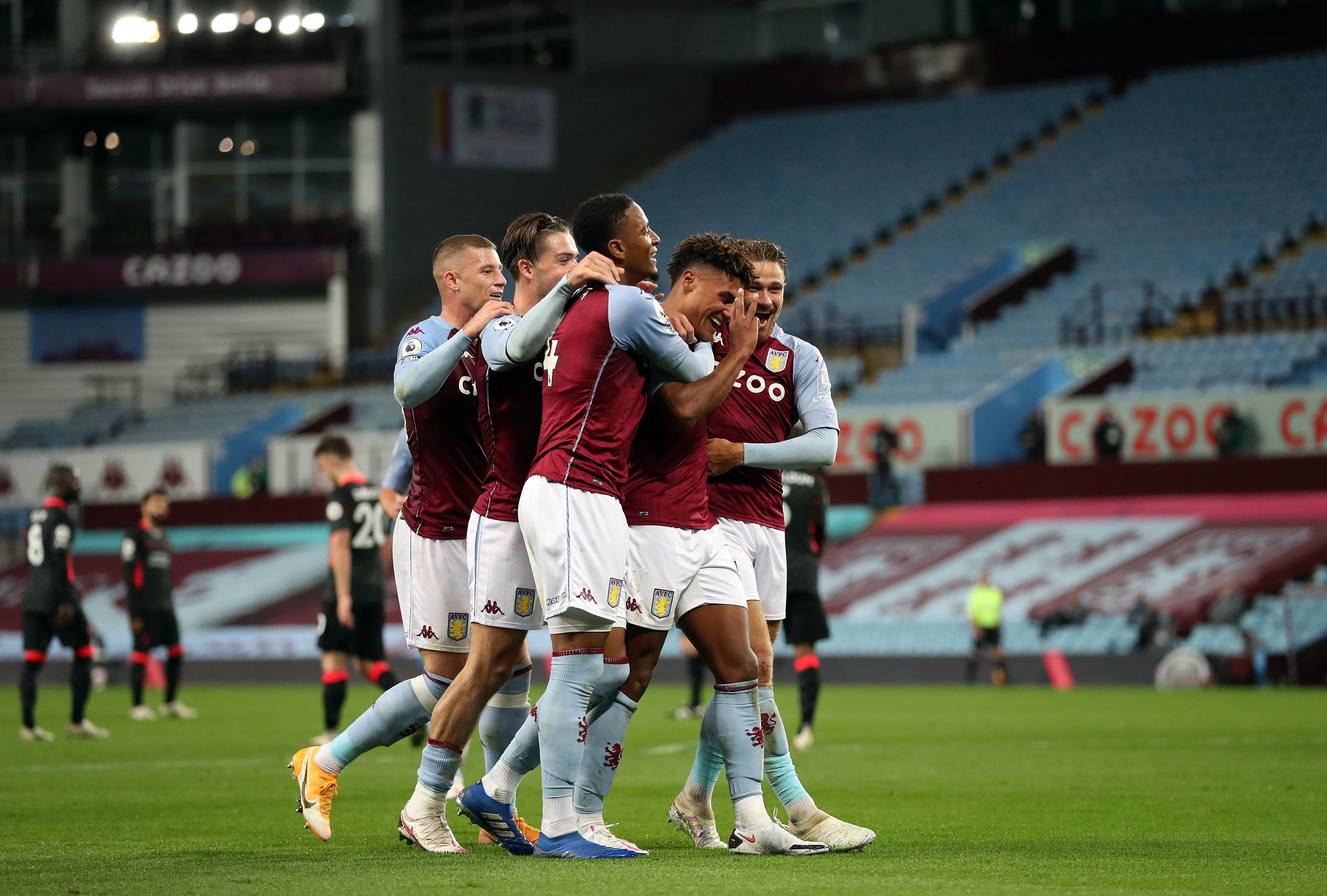 Watkins shows his top-flight quality
He hadn't a single Premier League goal going into the game, but 45 minutes later had three – and the match ball.
The former Brentford striker was a real livewire, showing great movement to get behind the defence time and time again, but also showing the technique and footwork to beat defenders one-on-one – and the goalkeeper, relentlessly.
It was a clinical display, but also a fine all-round, hard-working, clever running showing from Watkins, whose confidence will surely surge after this.
Villa have needed a goalscoring No. 9 and they certainly have one now.
Defensive howlers and deflected hits
Rather incredibly, three of Villa's six goals were deflected – and not just slight deflections for goals that were going in anyway, but vast, looping bounces which evaded Adrian, or ricochets which flew in entirely the opposite direction.
If Villa perhaps earned that fortune, though, Liverpool ensured they handed further goals to their opponents on a plate.
Adrian's poor passing, Joe Gomez's incapacity to show his man outside, Virgil van Dijk's lack of awareness, none of the team following in set-pieces…the Reds' all-round shambles at the back was a continuation of what we've seen in the top flight in the early weeks.
Not something much expected of the title favourites, mind.
Deadline day quick thinking?
Alisson picked up a few injuries and absences last season, resulting in Adrian playing 18 times in all competitions, far more than would usually be expected for a second-choice goalkeeper.
With another issue for the Brazil No. 1 here, and this not being the first time Adrian has had a negative impact on a result for the Reds, there's one day remaining for a quick decision on whether the club want to address the position – especially if Alisson is likely to be out for an extended period of time.
Elsewhere, there's little chance of Liverpool adding further quality elsewhere in the ranks, while more business could yet be outgoing with the likes of Marko Grujic or Xherdan Shaqiri tipped for moves.
As for Villa, they don't appear to need much in the way of quick fixes, and their summer work has been excellent.
Change in style
The scoreline on the day shouldn't overshadow one thing: Aston Villa are a changed outfit, and a fantastic one at the start of this season, not just in this 90 minutes.
Reaction will inevitably focus on how bad Liverpool were, but Villa deserve enormous credit too: they hadn't conceded a goal before kick-off, they've still not dropped a point yet and they could easily have hit double figures in this game.
Dean Smith's side were defensive, non-risk-taking and lacking in goal threat post-lockdown last season as they sought to secure their Premier League status by virtue of losing less frequently than the rest.
It worked, just about, but now it is all changed – they have better individuals in key areas, Ezri Konsa has been excellent in defence and there's more intent about their attacking play.
Ross Barkley's surging runs from deep and there's a totally new dimension to their style, and it should be applauded.
Has the league gone mad?
From the Pep-Bielsa counter-thrusting masterclass, to Spurs hitting United for six, to this nine-goal fest on a Sunday night – the Premier League has been enormously watchable this weekend.
Unless you happen to be a defensive coach, of course.
But it's entirely probable that much of what we're seeing is the knock-on effect of a shortened summer 'break', a lack of real pre-season and preparation, continual interruptions from internationals and condensed fixture list being squeezed in at every chance.
It's madness, in many ways, and it doesn't appear to be likely to end soon, so make the most of the enjoyment it brings.
Until it's your team on the receiving end, of course.
Source: Read Full Article