Save articles for later
Add articles to your saved list and come back to them any time.
In front of the picturesque backdrop that is the Grampians, Dunkeld racecourse will on Saturday play host to their annual country cup in a year like no other.
No fewer than 12,000 packed out the once-a-year meeting at Dunkeld last year, however the club is expecting no more than a few hundred owners on course when the country cups circuit really heats up this weekend.
Crowd bans are expected to be lifted imminently, but that won't be in time for Dunkeld. It's a bitter blow to the community's tourism industry.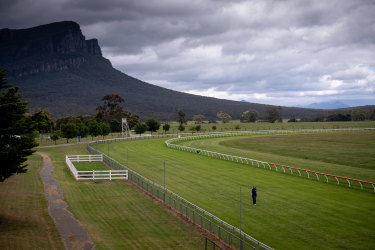 Stark sight: The Dunkeld racecourse with the Grampians backdrop.Credit:Eddie Jim
"For us, it's probably the local community that misses out even more so than the race club," club manager Lisa Evans said.
"The race club is probably in a little bit of a more fortunate financial position, but it's the local community groups – our football, netball club, the cricket club, the Rotary and Lions clubs – that are all involved in our day, and they're probably the ones that are going to miss out on their annual sponsorship and fundraising they get to make."
In past years, the cricketers would run the bar, Lions club members would direct traffic into the parking bays, Rotary would look after a BBQ that fed hundreds and school kids would take care of the ticket boxes.
Hotels and motor inns within an hour's drive of Dunkeld would be booked out for the weekend, full of bucks and hens groups and end of season football and netball trips preparing for a day out at the track. This year, they'll have to watch on from home.
Racing club manager Lisa Evans.Credit:Eddie Jim
"It is really disappointing. The club's obviously been really hopeful we might be able to run some type of event in a COVID-safe manner but obviously it hasn't panned out that way with the second wave and the restrictions that are still in place," Evans said.
"Obviously the impact on the wider community is huge.
"Normally we've got our marquees already built and we've got contractors bumping in and out all week. She's a little bit quiet and it will be for Saturday. We are accepting owners so there'll be a few on course, but with the restrictions there'll only be 30 people per race and we'll probably only have a couple hundred for the day.
"We'll be missing that economic stimulus, that's for sure."
Country Racing Victoria chief executive Scott Whiteman said small towns reliant on their annual country cups to attract tourists would feel the pain until COVID restrictions are eased.
"Dunkeld is a once-a-year race meeting that is one of the most iconic country race meetings in Australia," he said.
"It is renowned for large enthusiastic crowds celebrating at a postcard perfect location and is truly one of the feature events during the spring. It is a shame that the cup will be run on Saturday without a crowd but we are thankful that we are able to race and next year the event will be greater than ever."
Whiteman was hopeful the ban on crowds wouldn't last too much longer as attention turns from Flemington to the bush.
Victoria's picnic season, which was due to start on Cox Plate, is also waiting for the green light for crowds to return before it gets underway – hopefully by November 28. Warrnambool's Jericho Cup meeting is scheduled for Sunday November 29.
"We are working with the State Government about a return to crowds for our summer race meetings," Whiteman said.
"Many once-a-year meetings are held that are very important for the local community and economies.
"We are hopeful that the picnic racing season will return soon and expect to provide more information on the picnic races shortly."
Most Viewed in Sport
Source: Read Full Article